A 2-day masterclass for  deepening inquiry and dialogue skills in MBSR teaching. Co-facilitated by Claire Griffin & Dr. Sheena Burke.
Conveying course themes through inquiry and dialogue is integral to skilful MBSR teaching. A large amount of class time is reserved for exploring participants' experiences of the different mindfulness practices of the curriculum. A collective conversation of deep listening, compassionate curiosity and celebration of the beauty of being human together unfolds within and across each class.
Yet this key competency is also one that many MBSR teachers experience as a source of unease and challenge. Perhaps this is unsurprising as we immerse ourselves in the emergent style of teaching and move into a space of 'not-knowing'. In this fresh, open space we let go of urges to rescue or give advice as we accompany participants on this journey of mindfulness practice. We may imagine that speaking in inquiry is like dropping a pebble into a pool of water – we do not know how far the ripples will reach.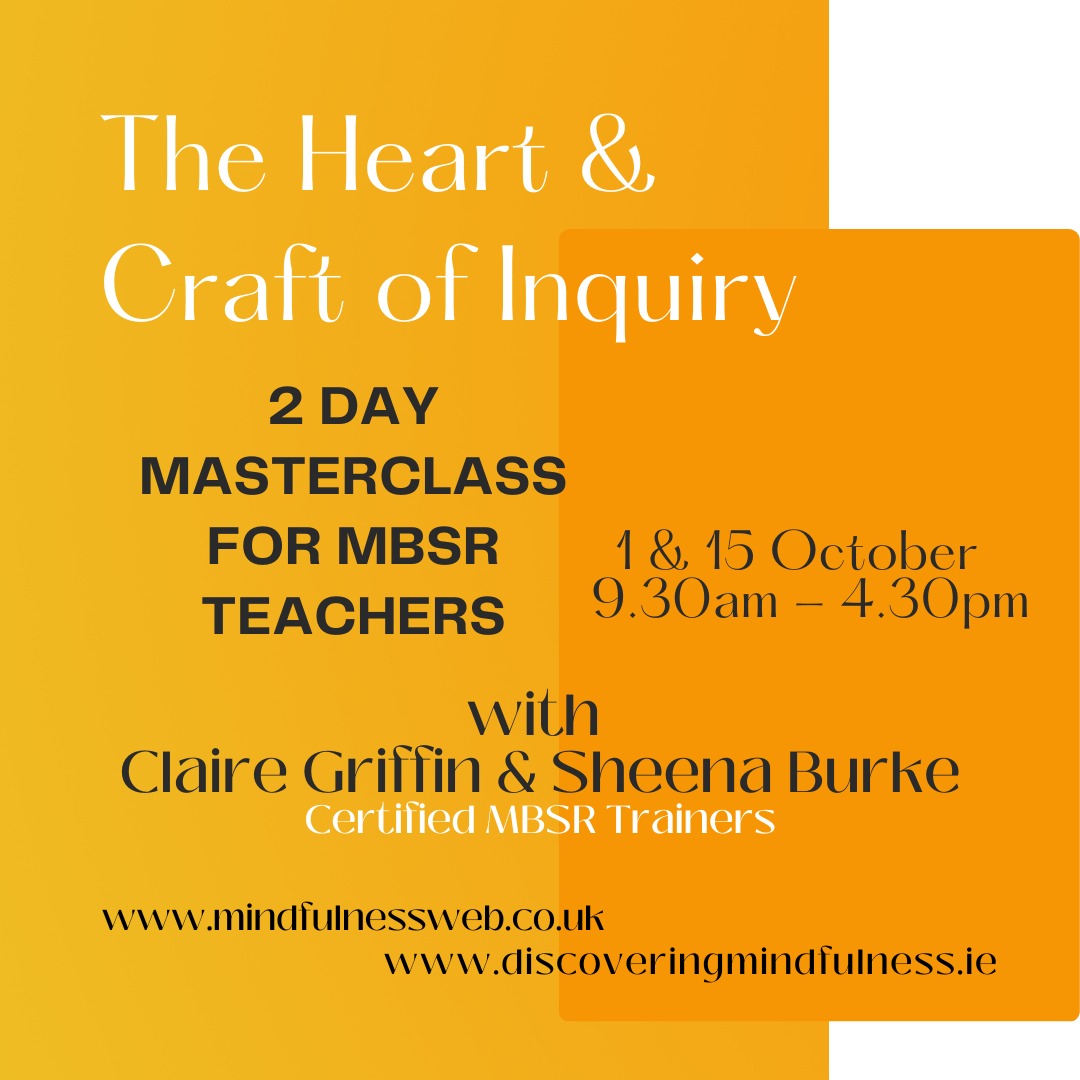 Who is the Masterclass for?
MBSR Teachers who have completed a minimum Level 1 MBSR Teacher Training. A registration form is completed at the time of booking that will seek confirmation of this requirement..
Masterclass Format and Contents
This 2-day masterclass programme is offered to teachers of MBSR as support for deepening your learning and confidence in this core teaching competency. We will share the difficult, the delightful and the doubts. How do we meet with the uncomfortable, challenging, or unnerving in the inquiry process? What "unlearning" is needed to allow for meaningful learning to emerge for individuals and the group? Honouring the experiential, dynamic and emergent principles of MBSR teaching, we will explore in community the 'heart and craft' of inquiry. We will evolve our embodiment in facilitating group dialogue that is skilful and relational.
This masterclass draws on our own experiences as well as key sources and leaders in the wider MBSR research and practice field.
Your Teachers for the Masterclass
This masterclass is created and delivered by Sheena Burke (Discovering Mindfulness) & Claire Griffin (Mindfulness Web). Both are Certified Mindfulness Teachers and Supervisors (MBSR Specialism) and Senior Trainers with Mindful Academy Solterreno, international centre for MBSR Teacher Training.
Masterclass Fees
We are offering a sliding scale fee for this 2 day masterclass, with you choosing to pay a fee between €250 and €290.  (Approx. £208 – £240) The price is set as a standard fee of €290.
You are free to reduce your total fee by selecting the 'redeem coupon' option and choosing the amount to reduce your total fee.  Please contact me via the "Book a Masterclass" button below for the link to the booking form and for discount codes.
Dates & Times
Autumn 2022 – Saturday 1st & 15th October  – 9.30am – 4.30pm GMT+1/10.30am – 5.30pm CET
The course was well-structured and comprehensive and gave a very good foundation for online teaching of mindfulness-based courses. The course was…
This MBSR course is a great way to bring the ancient roots of meditation into our modern life. It amalgamates the two into a very practical and experiential way, deepening our connection to our bodies which essentially is the superpower we have to self regulate. I cannot recommend it enough
The team and I found Claire's mindfulness sessions to be most helpful. We work in complex and fast moving compliance and cyber security industries which can be very stressful. We also work 100% remotely since COVID and so are not as interactive as a team as we used to be. We commissioned Claire to conduct…
I can highly recommend this course to anyone looking to bring mindfulness more prominently into their lives and wanting to develop a better understanding…
I am very happy and confident to recommend the 8-week MBSR online course with Claire. I have learned a lot and experienced a lot too. The sessions are…
I feel privileged to have been on a course with Claire, as she is such a skilled and compassionate teacher who has ignited my passion to keep teaching in this new way.
I would definitely recommend this course as an insight into mindfulness and its benefits. Claire is very engaging and will make you feel at ease, even if this is a totally new area for you.
If you do one thing for yourself, take this MBSR course. This course has the ability to change your life. I have learned more about myself than I could ever…
This course provides useful exploration of how to best use the Zoom platform to enable the MBSR experiential teaching practices while being conscious of the…
Highly recommended course. I will share it with all my friends as a MUST experience, especially nowadays in our auto-pilot lifestyle. I am practising every day…