About Claire Griffin – Mindfulness Teacher and Supervisor
Hi, I'm Claire and I've been practicing Mindfulness now for 10 years and teaching it  since 2015. I qualified with the Mindful Academy Solterreno in Spain and I'm now a Certified MBSR Teacher and a member of their senior teacher training team, helping to teach other Mindfulness Teachers from around the world.
I teach mindfulness courses and workshops online to individuals and businesses in the UK and internationally. Additionally, I supervise others who are learning to be mindfulness teachers.
Based in West Sussex, I'm fortunate to live and work just a few hundred metres from beautiful Shoreham Beach.   Daily beach walks are one of my great enjoyments in life – and I've recently started cold water sea swimming and love it!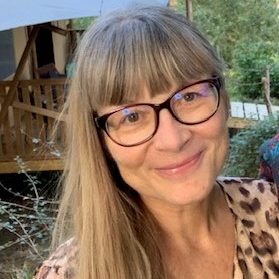 Before I discovered mindfulness, I  had a successful career working in executive search for the digital and data marketing industry. For more than 25 years, including a stint working on Wall Street,  I'd been used to the fast-paced agency world and the pressures of running my own business, most recently running it from home.
This often meant heavy workloads, long hours and tight deadlines. All of which eventually took its toll on and after some unexpected changes in my personal life and a family illness, I experienced what I now understand to be a burnout.
Looking for something to help with the anxiety and unhappiness I was experiencing,  I joined an 8-week Mindfulness-Based Stress Reduction (MBSR) course in 2013, which was a life-changing experience for me. Learning mindfulness had such a profoundly positive impact  that I felt I absolutely had to share the benefits of it with others.
That's when I decided to pivot to becoming a Mindfulness teacher so that I could help others to experience the transformational power of this ancient practice.
My Qualifications and Accreditations
As well as being a Certified Mindfulness Based Stress Reduction Teacher,  I'm also a Mindfulness at Work Verified Trainer and a qualified coach with a Diploma in Personal Performance Coaching. I've successfully coached business leaders, managers, and entrepreneurs to reach their full potential.
A member of the British Association of Mindfulness-based Approaches (BAMBA), I have passed their assessments to demonstrate I meet the UK good practice guidance for mindfulness teachers.
I am also an Executive Contributor to Brainz Magazine. Executive Contributors at Brainz Magazine are handpicked and invited to contribute because of their knowledge and valuable insight within their area of expertise.
Joy In Life
Poetry is an integral part of the MBSR course, and learning to bring full present moment awareness to everyday activities like eating and drinking is too.  This poem by famous meditation teacher Tich Nhat Hanh gives a real "taste" of what we mean by "Mindful awareness".
You must be completely awake in the present to enjoy the tea.
Only in the awareness of the present, can your hands feel the pleasant warmth of the cup.
Only in the present, can you savour the aroma, taste the sweetness, appreciate the delicacy.
If you are ruminating about the past, or worrying about the future, you will completely miss the experience of enjoying the cup of tea.
You will look down at the cup, and the tea will be gone.
Life is like that.
If you are not fully present, you will look around and it will be gone.
You will have missed the feel, the aroma, the delicacy and beauty of life.
It will seem to be speeding past you. The past is finished.
Learn from it and let it go.
The future is not even here yet. Plan for it, but do not waste your time worrying about it.
Worrying is worthless.
When you stop ruminating about what has already happened, when you stop worrying about what might never happen, then you will be in the present moment.
Then you will begin to experience joy in life.
― Thich Nhat Hanh
If you are interested in learning how mindfulness can enrich your life and help you to manage stress and anxiety, please contact me.