Taking Your Mindfulness Teaching Online
Do you want to take your mindfulness teaching online? Or improve your online teaching techniques?
With the world currently operating largely online and a massive increase in online teaching, taking your Mindfulness-Based Stress Reduction (MBSR) course online is an obvious step.
Whether you are new to online teaching or are already doing it but would like to deepen your knowledge, my Teaching MBSR Online Live Masterclass is for you.
The masterclass is taught through the Mindfulness Academy Solterreno, where I am part of their senior teaching team.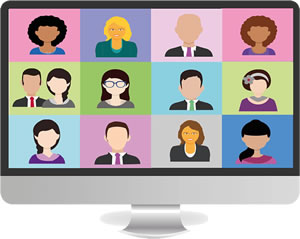 Who is the Masterclass for?
If you are new to mindfulness teaching, you must, as a minimum, have completed a Level 1 (TT1) and a Level 2 (TT2) MBSR teacher training pathway with a reputable training body.
For teachers experienced with in-person teaching, the masterclass is perfect for learning how to take your course online. And, if you've already been teaching online, this is the ideal way to broaden and improve your knowledge of online teaching.
Masterclass Format and Contents
The Teaching MBSR Online Live Masterclass takes place on Zoom, with three weekly sessions of three hours' duration (nine hours in total). You'll also receive handouts to assist with your learning.
The masterclass is live, interactive and collaborative. You will:
Learn how to maintain essential classroom teaching elements in an online teaching environment (based on the six competency areas of the MBI:TAC)
Consider how experiential exercises can best be carried out online, creatively and within the learning themes
Practise guiding and being guided in online meditation, in a safe space
Experience the inquiry process as both a teacher and participant.
You'll also have the opportunity to join practice groups for guiding and inquiry in between the masterclass sessions.
At the end of the masterclass, you will:
Understand the technical requirements and most commonly used functions for teaching mindfulness on Zoom
Have experienced guiding and inquiry practices online, with peer feedback in a supportive environment
Understand best practices for teaching online within the six competencies of MBI:TAC
Have experienced building and nurturing connections, as well as some of the challenges and benefits of online teaching
Have explored ways of adapting the experiential exercises for online teaching.
Masterclass Costs and Dates
Masterclass Group sessions – £125 per person (between 6 and 20 people per group)
The masterclass comprises 3x 3-hour weekly sessions and handouts.
Next Masterclass
Dates: 3rd to 17th June 2021 – sessions on 3rd, 11th and 17th June
Times: 9am-12pm UK (10am-1pm CET)
The course was well-structured and comprehensive and gave a very good foundation for online teaching of mindfulness-based courses. The course was…
I can highly recommend this course to anyone looking to bring mindfulness more prominently into their lives and wanting to develop a better understanding…
It was a great experience reflecting on how MBSR training might be delivered online. Claire really mastered the online teaching, with her patience, calm, letting
I would definitely recommend this course as an insight into mindfulness and its benefits. Claire is very engaging and will make you feel at ease, even if this is a totally new area for you.
If you do one thing for yourself, take this MBSR course. This course has the ability to change your life. I have learned more about myself than I could ever…
I would recommend this course as it gives support and confidence to deliver online training. The opportunity to be in small practice groups enabled the space to…
Before doing the course, I had been practising meditation for quite some time but not in this way. I am really glad that I decided to do the course because…
Highly recommended course. I will share it with all my friends as a MUST experience, especially nowadays in our auto-pilot lifestyle. I am practising every day…
The course was excellent, I found Claire's facilitation was authentically mindful and the group holding was skilful and respectful – a key learning in and of itself.
I am very happy and confident to recommend the 8-week MBSR online course with Claire. I have learned a lot and experienced a lot too. The sessions are…